An important part of any Academy program is to prepare students for the world of work. To that end, all Academy students must complete an internship at a business or non-profit in their community.
In the classroom, Academy students learn skills important to employers, then take those skills and apply them in the workplace. Students receive valuable experiences that will benefit them as they move into their future academics and career. Employers receive hard-working employees with a youthful and innovative way of looking at their jobs, eager to succeed.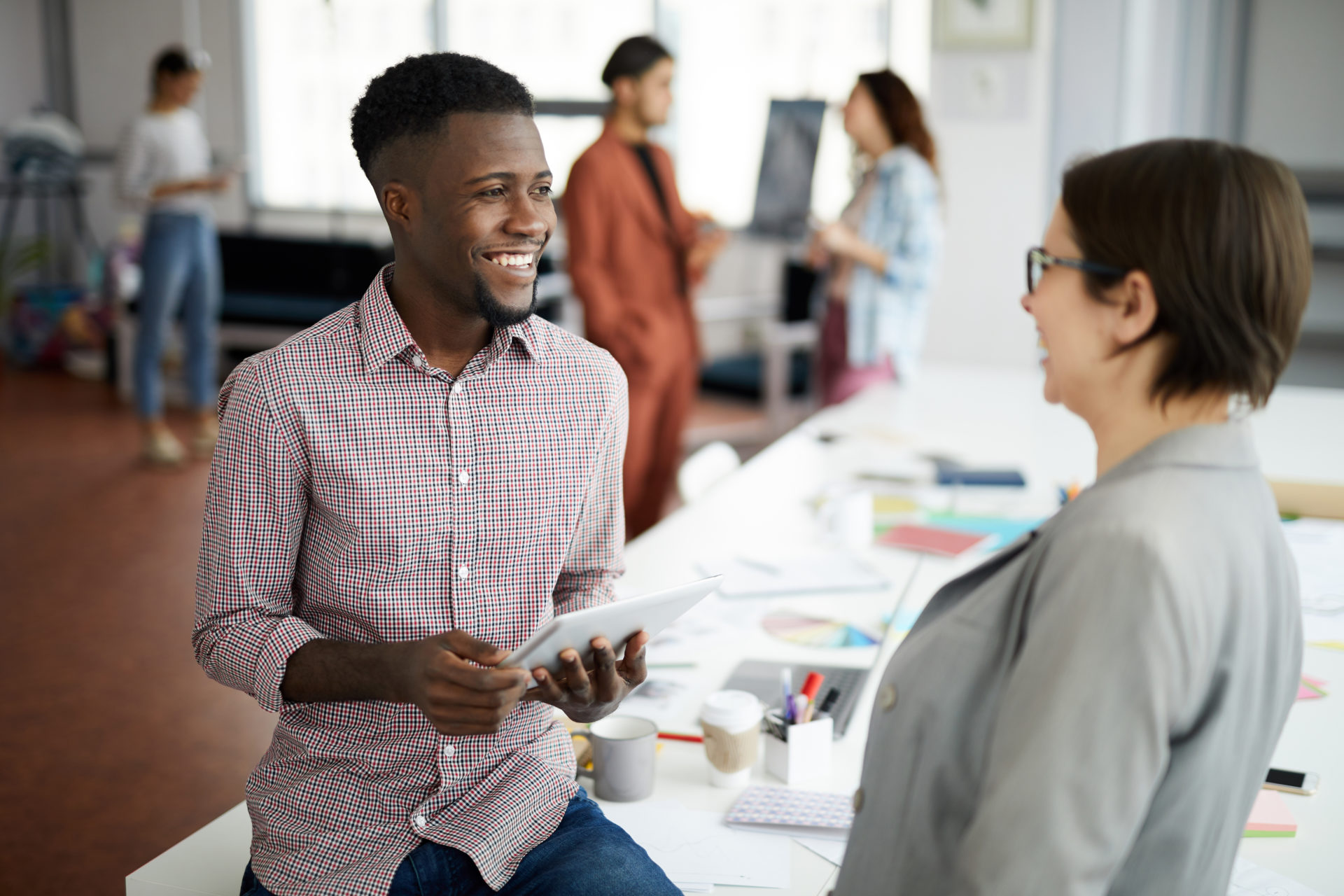 Frequently Asked Questions
What is my role as an internship provider?
Your role as an internship provider will be important, as you are the main contact in the workplace and will guide the experience for the intern at your company
In general, you will:
Establish work hours
Monitor attendance
Assign work and monitor performance
Provide training and guidance
Provide encouragement and feedback
Conduct performance evaluations
Help the intern feel comfortable with other employees
Establish consequences if work or behavior is not up to par.
At what level should I expect an intern to perform?
Keep in mind that this may be the first professional work experience for your student intern. He/she may not have had the workplace knowledge that you might expect entry-level employees, or even college interns to have. At the same time, studies show that employers who have had Academy interns say their skill levels and productivity have been as good as, and in some cases superior to, college interns and entry-level workers.
Will I interview the intern?
Yes! This will provide the intern with a valuable experience and give you an opportunity to meet several potential candidates, allowing you to select a student who will be the best fit for your company. In addition, the Academy Internship Coordinator or Director will also help by "matching" students with a company based upon a job description you provide and the skills and abilities of each student.
What can an intern do?
Interns, like entry-level hires, come with a variety of skills. Work assignments should be on a level equal to or slightly higher than the intern's current skill and knowledge level, and should include a variety of activities. These may include, but are not limited to, the following:
Technical skills, such as word processing, spreadsheets, databases, PowerPoint
Data entry
Send and process form letters and/or write simple business letters
Proofread
Help with audits and inventories
Cover for vacations
Assist with researching projects from news sources or the Internet
Maintain files
Assist with special projects
Prepare materials for meetings, classes, or conferences
Answer phones, copy, and fax
Bring youthful ideas and thinking as team members.
Does an intern get compensated?
Yes. We believe our interns should be compensated for the hard work that they do. It is also a good experience for interns to understand that, as in any job, there are rewards for performing well and consequences for performing poorly. The Academy Internship Coordinator or Director will discuss with you the various options for internship compensation.
Who do I contact if I have any questions about sponsoring an intern?
Should you have any additional questions regarding providing an internship opportunity, please send an email to wnyregionalboard@gmail.com or complete and submit the internship form and someone will get back to you as soon as possible.
Thank you for providing quality work experiences to our Academy students.
A-1 Landcare
Advanced Design Group
American Red Cross
AMG Customs Solutions Inc.
Avanti Mansion
AXA Advisors
Berard Law
Buffalo Bills, Inc.
Buffalo Exterminating Co.
Buffalo Fuel Corporation
Buffalo Lodging
Buffalo Niagara Courts Center
Buffalo Rehab Group
Catholic Health System
Center of Renewal Retreat & Conference Center
Cheektowaga Town Parks
Cheri Amour
Chick-Fil-A Walden
Compu-Mail
Curbell Plastics
Delaware North
Destination Niagara USA
Doodle Bugs
Double Double, Inc. (Tim Hortons)
ERDCO
Financial Trust FCU
Fox Run
Freed Maxick
Fresenius Medical Care
GHD
Health System Services
Hoopla
Ilio DiPaolo's Restaurant and Banquet
INDIGO
Isaiah 61 Project
It Happened to Alexa Foundation
JC Penneys
Key Bank
KJ Electric
Lake Region Medical
Lancaster Country Club
Lewiston Stone House
Linen World
Lower Niagara River Region Chamber of Commerce
M & T Bank
M&T Bank
Managed Care Network
Maranello Maserati of Buffalo
McGard LLC
MedBio
Mentholatum
Millennium Hotel
Mount St. Mary's Hospital
Multisorb Technologies
NFADA
Niagara Falls National Heritage Area
Niagara Global Tourism Institute (NGTI)
Niagara Jet Adventures
Nupro Corporation
Old Fort Niagara
Omega Deli
OP Recreation Dept.
Orchard Glen
Orchard Park Chamber of Commerce
Over the Falls Tours
Past & Present Fossil and Rock Shop
Pediatric and Adolescent Urgent Care
Penn Dixie Paleontological & Outdoor Education Center
Repp Construction
Rollie Pollies
Russell's
Servotronics, Inc.
Sparkle! Marketing and Events
State Farm Insurance – John Mouw OP
State Farm Insurance – Laura Capizzi Agency
State Farm Insurance EA
Steinmart
Stella Niagara Educational Park
Sto Lat and Simply Pierogi
Tam Ceramics
Tedesco Construction Services
The Silo
Therapeutic Link for Children
Thruway Hardwood & Plywood Corp.
Tim Hortons
Tops Friendly Markets
Tops Markets
Turner Construction Co.
UB Orthopaedics
Unifrax I LLC
United Way of Greater Niagara
University Pediatric Dentistry
Urban Air
Village of Lewiston Clerk's Office
Visit Buffalo Niagara
Waste Technology Services (WTS)
Waste Technology Services (WTS)
Wegmans McKinley
Wegmans West Seneca
West Seneca Chamber of Commerce
Western New York FCU
Whirlpool Jet Boat Tours
YMCA